ENTER AT OWN RISK

2011 / 2012
About the Smell of the Moon and
Astronaut Training

STOP / Airlock / YOU ARE ABOUT TO ENTER A CONTROLLED SPACE
STRONG SMELL / HARMLESS BUT MAY LINGER ON CLOTHES
In a laboratory-like room, a lone astronaut tenderly gardens a group of rocks, spraying them periodically with the SMELL OF THE MOON – a scent synthesised from the reports of the Apollo crew.

No one can smell the moon directly. The vacuum in space prohibits this. However, when the astronauts that walked on the moon returned to their landing modules and removed their helmets, they inhaled a new scent. For the first time ever, the dust of the lunar surface, bombarded by meteroids for billions of years, reacted with oxygen and moisture.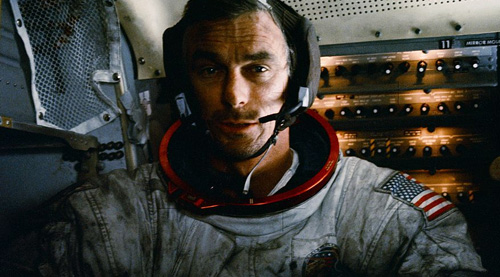 (1) (2) (3)
Reports are relatively consistent, of gun powder, burnt metal or barbecue. Using this information, the perfumer Steve Pearce of Omega Ingredients created the smell of moon dust for us here on earth.

The installation draws not just on smell, but also on the iconography of early astronaut training. Before the first moon landing was achieved, NASA hosted press events in which astronauts performed for photographers by demonstrating tasks they had been trained to undertake. These rehearsals, for the actual action to come, return now as echoes of the fantasy of space exploration.

Contemporary witnesses of this ballet of space maintenance emerge pollinated with the smell of the moon. Conveying from a designed and engineered space which is neither here nor there, the impossible sensory contamination spreads into the city beyond the gallery.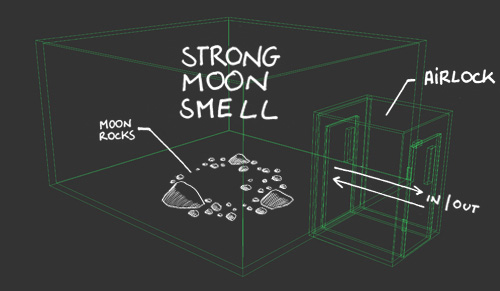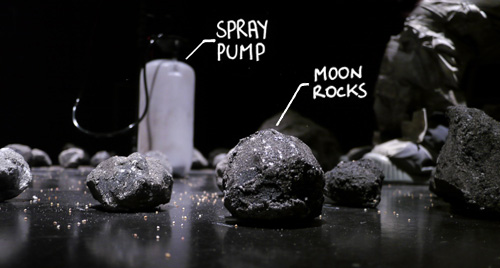 (top) Smell and performance space with airlock.
(bottom) Detail view of moon rocks and spray pump.


---

Part of the exhibition Republic of the Moon
December 2011 – February 2012, FACT, Liverpool, UK
Moondust fragrance created for WCTM by perfumer
Steve Pearce of Omega Ingredients Ltd.

Performers
Stephanie Pitchers
Orian Peled
Hayley Nicola Fielding

Additional spacesuit customisation by
Louisa Sorrentino
Photo / Video Hagen Betzwieser
Music Gurdonark

ENTER AT OWN RISK was commissioned by
The Arts Catalyst and FACT

www.artscatalyst.org
www.fact.co.uk

---

REVIEWS
BBC News In pictures: Republic of the Moon

BBC Material World Artists in Liverpool are preparing to launch a new exhibition that imagines how we might live on the Moon. Ahead of the exhibition's lift-off, Quentin speaks to curator Rob le Frenais and artist Sue Corke about making scratch 'n' sniff lunar postcards and training geese to be astronauts – all in the name of art, of course.

WIRED Republic of the Moon exhibition explores lunar living. By Philippa Warr.


---

more about the smell of the Moon.
MOON, Scratch & Sniff, 2010


---

(1) View of the Moon's north pole taken by Galileo's imaging system 1992. NASA.gov
(2) John Young on the Moon taken by Charlie Duke, Apollo 16, 1972, NASA.gov
(3) Gene Cernan, Apollo 17, covered with Moon dust, NASA.gov