Dynamic, Affordable, Apollo-free

2014
Institutional residency Republic of the Moon, London

"The idea of ownership is expanded on in the work of Sue Corke and Hagen Betzwieser through the use of text and found objects. Light bulbs illuminate the words 'THE MOON AH YEAH' like merchandise for a Mariah Carey anthem. Built from wooden struts it resembles an improvised version of the iconic Hollywood sign. Meteorite-like rocks sit in a trolley that has one too many wheels while the statement 'A THEME PARK OR A QUARRY' is chalked onto a large blackboard dominating the room. It feels like the beginnings of a party, or protest… depending on how you'd like to visit the moon."
Denise Kwan, This Is Tomorrow, 12 February 2014





Lunar Exploitation Remonstration.

A polite protest for and against the exploitation

of the moon.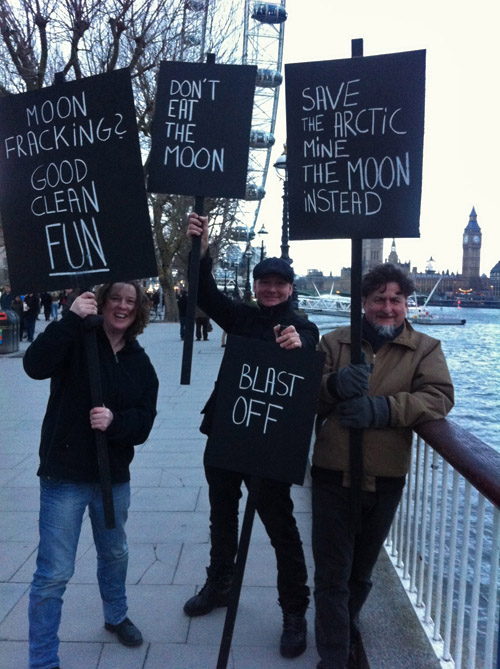 Sue Corke, Hagen Betzwieser and Rob LaFrenais during the remonstration. (Foto: Nicola Triscott)
Remonstrators in front of the Republic of the Moon at Bargehouse, London.




Earthrise, Bill Anders, Apollo 8, 1968, NASA, AS8-14-2383HR;
Rabbits at a water hole, Wardang Island, 1938, National Archives of Australia, A1200-L44186


"The introduction of
a few rabbits
could do little harm
and might provide
a touch of home,
in addition to
a spot of hunting."
For all Apollo-Phobics: You can't ignore Apollo!





Dynamic, Affordable, Apollo-free
was commissioned by The Arts Catalyst

Republic of the Moon, 2014
Bargehouse, Oxo Tower Wharf, South Bank, London, UK

Funded by Science & Technology Facilities Council, UK


---

Press, broadcast, media coverage
ARTnews Science Fiction: Sci-Fi Gets Real
Huffingtonpost Artists create their own earth-based- embassy to the moon
This is Tomorrow Republic of the Moon
New Scientist There's a moon for us all at the lunar art show
Studio International Republic of the Moon
DAZED The best group shows
The Telegraph No one owns the moon says the scientist
The Guardian The artists who own the moon
Time Out London Lunatic artists


---
WE MAKE MONEY NOT ART #A.I.L - artists in laboratories, episode 51
Radio interview on ResonanceFM with the amazing Régine Debatty.
---


P.S.
GOOD NEWS
JADE RABBIT LIVES

CONGRATULATIONS CHINA
(14.2.2014)