Authentic Goods from a Realistic Future

June – September 2012
EB&Flow Gallery, London

Authentic Goods from a Realistic Future deals with ideas around the nature of reality, and the issues of representation and fakery in the way science and space exploration has been portrayed in popular media.

Now at the beginning of an era of space tourism with private companies aiming to 'boldly go' there, WE COLONISED THE MOON offers a first look into this future of universal trade and commerce.

The iconic image of Armstrong and Aldrin raising the US flag on the moon, later appropriated by MTV, becomes an emblem of humanity's desire to discover, conquer and own. Our collective hubris and vanity become ridiculous and risible.



An Ideal Sketch of a Moon
Sue Corke (UK)
2012

Etching, Series of 3 unique prints.
127 x 127 cm, 9 plates 42 x 42 cm, tiled, framed

In the late 19th century, engineer James Nasmyth and astronomer James Carpenter wrote: "The Moon: Considered as a Planet, a World, and a Satellite." Unable to translate all their observations into photographs, they recreated the surface of the moon out of plaster and photographed the models instead.

Their so called "ideal sketches" inspire Corke's own remodelling of an imagined moon surface as copper etchings. Her techniques of deep open bites, dense line work, aquatint, scraped and burnished, turn the smooth surface of her plates into three-dimensional sculptural surfaces to render the illusion of a lunar surface pitted by craters. Each print created from nine tiled plates is unique. After printing the plates are worked again afresh.


Frigoris / Tranquillitatis
Sue Corke (UK), Hagen Betzwieser (Germany)
2012

Silkscreen
90 x 90 cm (paper size), 60 x 60 image
Edition 10 + 3 AP

Detail of geologic map created by the United States Geological Survey for NASA
prior to the first Apollo missions. The start of an ongoing series.




A Billion Year Old Desert
Sue Corke (UK)
2009

Silkscreen (Artist Proof)
52 x 38 cm, framed 70 x 50 cm

International Space Station astronaut Don Pettit, called the moon a 4 billion year old desert as a metaphor for the dry and dusty state of its surface, under constant bombardment from meteors and lacking an atmosphere of oxygen and moisture.

In 2009 Corke was an Artist in Residence at Frans Masereel Centrum (the Flemish National Centre for Graphic Arts). During her time there she made studies for a series of experimental silkscreen prints of rocky lunar surfaces made from graphite (a mineral rock) powder.

As Good as a Moonrock
Sue Corke (UK), Hagen Betzwieser (Germany)
2012


Object, Sculpture
Display Cabinet, 62 x 32 x 65 cm

The demand for moondust for scientists—to study and conduct experiments with—exceeds the very limited stocks now on earth. NASA has therefore licensed the production of a synthetic simulant.

The classic plaster rocks of science fiction movies are three-dimensional painted fantasies.

The heart of this rock is in this way as humble and typical. But, it's surface is officially, as good as the real thing.

JSC Lunar-1A Simulant, Plaster, chickenwire


Protest and Survive
Sue Corke (UK), Hagen Betzwieser (Germany)
2012

Customised catalogues.
Original spraypaint and silkscreen cover.
Edition 25.


Flying Saucers, Made in Germany
Hagen Betzwieser (Germany)
2012

Multiple
Porcelain, Screws, Wood, String, (optional LED's)

The classical flying saucer made in Germany. From the Reichsflugscheibe now to the model Pasta Grande. A top export hit overseas. Simple, elegant but also fragile. An timeless space craft vehicle with future potential.

A) Mothership, 30 cm, Pastagrande
B) Standard ship, 22 cm
C) Explorer, 16 cm plus 7,8 cm Commando dish



Space Maintenance / Lost in Space
Sue Corke (UK), Hagen Betzwieser (Germany)
2009 – 2012
HD Video projection, life size, loop
OHP projection
A continual performance of an arduous ballet in homemade weightlessness in a DIY planetarium of laser cut star maps and OHPs.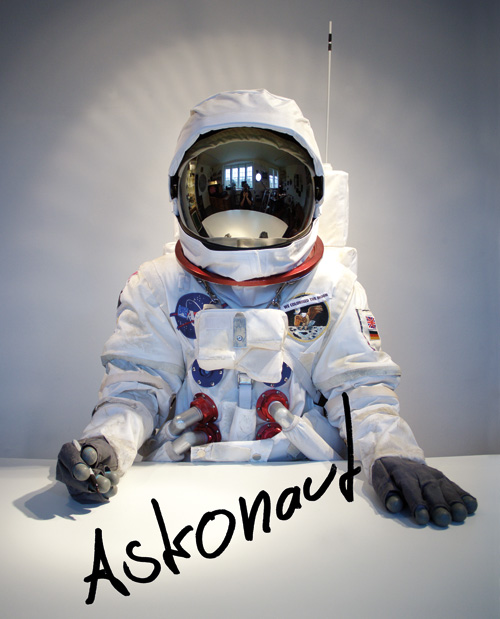 Astronaut (privatised)
Sue Corke (UK), Hagen Betzwieser (Germany)
2012
C-Print, Lightbox
DIN A2, 59,4 x 42 cm
Super stars of the future! Since the 60s the white 21 layer Playtex Apollo Suit has been the ultimate icon for space exploration. More than 40 years later it still communicates the romantic vision of Major Tom leaving the cradle of earth to explore undiscovered worlds. In the context of current developments in the privatisation and commercialisation of space travel it is very likely that this dream could happen soon. A private experience for entrepreneurial individuals in new shiny space suits with new sponsorship deals.
No Cosmic Rays (Protest Preparation, Storage)
Sue Corke (UK), Hagen Betzwieser (Germany)
2011 – 20XX

Installation, multiple
variable

COSMIC RAYS penetrating everything and everyone—nothing can stop them!
This is a campaign against subatomic particles, originating in outer space.
Protest and survive!

Ongoing project since 2011


---

EB&FlowGallery (since 2013 Berloni Gallery)
London

Curated by
Attilia Fattori Franchini

MUSIC, "Spooky" & "Arriving at the Magic Glade"
by Alastair Cameron, www.cameronmusic.co.uk

All Images and videos © 2012 by
Hagen Betzwieser (Germany), Sue Corke (UK)