June, 2014
WCTM at LISTE Art Fair Basel
By invitation of the House for Electronic Arts Basel, WCTM will present the works
Flying Saucers, Made in Germany (Fleet 1 and Fleet 2) and Earth Seen from Space.
The House for Electronic Arts Basel (H3K) focusing on the dialogue between art, technology, and media presents at LISTE 19 five artistic positions which engage with the themes of the departure into and the longing for outer space.
Come and join us for the opening if you are in Basel.
Opening hours:
Monday, June 16, 2014, 12–5 pm (preview), 5–9 pm (opening)
Tuesday, June 17 – Saturday, June 21, 2014, 1–9 pm
Sunday, June 22, 1–7 pm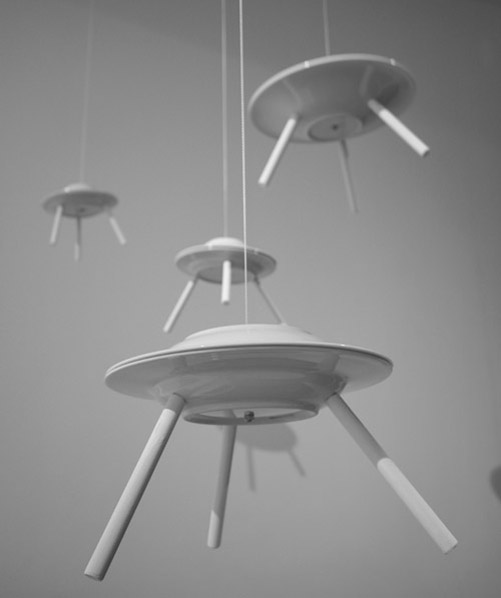 Flying Saucers, Made in Germany
Porcelain, screws, wood, string (and optional LED's)
Multiple (Fleet 1 and Fleet 2), 2012
The classical flying saucer made in Germany. A top export hit overseas.
Simple, elegant but also fragile. A timeless space craft vehicle with future potential.

// Fleet 1

// Fleet 2

A) Mothership, 30 cm

B) Standard ship, 22 cm

C) Explorer, 16 cm plus 7,8 cm Commando dish


---
Blackboard, blue LED light bulb, ceramic fitting, wire, chalk, varnish
60 x 100 cm, 2014
The pictures of Earth taken by the Apollo crews between 1968 and 1972 are still counted as »the most influential environmental photographs ever taken.« (Galen Rowell, Nature photographer). An icon of a new global consciousness. We are just entering a future where private space endeavours will make this experience, of looking back to Earth, accessible to a wider audience, wider than ever before. Just as 250 years ago, when mechanical models of the movement of the planets came into fashion, this new art work offers us a simple simulation of what to expect on your luxury adventure to the stars. Our home seen from a lunar distance – a spotless glowing super economy LED light bulb floating in the vastness of space – Happy Days!
Earth Seen from Space was first developed for the exhibition Republic of the Moon, Bargehouse, Oxo Tower Wharf, South Bank, London as part of the project Dynamic, Affordable, Apollo­-free, commissioned by The Arts Catalyst, 2014. The further developed solo version of this work is first presented at LISTE 19 at Haus der Elektronischen Künste, Basel, 2014.

H3K at LISTE




PRESS

"Auf Shoppingtour im Supermarkt für junge Kunst", SRF, Switzerland
"Die ersten Fotos von der LISTE", Tages Woche, Basel, Switzerland
"ART Basel: Visuals with a bit of drunk texting", Ben Austin, artlyst