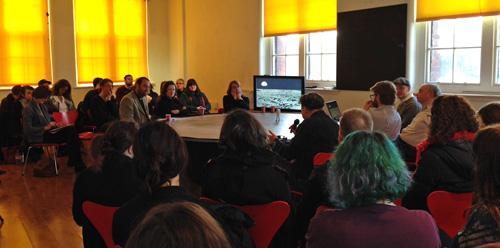 Open Think Tank Late Breakfast
Round table discussion about the concept of moon colonisation, asking:
"Should We Colonise the Moon?".
What's the future for the Moon – theme park or quarry?

Saturday 11 January 2014, 11am-1pm

On the panel are representatives of
science, politics, theology, philosophy, and art.


Benedict Singleton describes himself as a strategist with a background in design
and philosophy. He is the author of the forthcoming book The Long Con, an alternative history of design, and regularly writes on the politics and philosophy of technology for publications including Architectural Design and E-Flux. He has lectured at the Architectural Association, the Royal College of Art, the Bartlett School of Architecture, and internationally. His 2013 essay for E-Flux on space travel, Maximum Jailbreak, considers the earth as a trap, and asserts that the common project of philosophy, economics and design should be the formulation of the means to escape from it."
Ian Crawford is Professor of Planetary Science and Astrobiology at Birkbeck College, University of London. His research is mainly concerned with lunar science and exploration, and he has a significant interest in the future of space exploration.
He is currently Senior Secretary of the Royal Astronomical Society and a member of the Space Sciences Committee of the European Science Foundation. In 2003 he was a member of the European Space Agency's Human Spaceflight Vision Group, which recommended that ESA participates in establishing an international moon base.
He believes that space exploration should be an international, global, activity that can act as a unifying endeavour for humanity."
Rev. Dr. Jeremy Law is the Dean of Chapel for Canterbury Christ Church University. He conducts theological research at the Department of Theology & Religious Studies. In 2013, he gave a lecture at Canterbury on The Redemption of Evolution at the conference on Wildlife and Society: Challenges for a Shared Future. The conference promoted the discussion of issues related to the relationships between people and wildlife in the context of sustainable living, education and professional development for a shared future.


---
A very good review can found on
we-make-money-not-art.com

---

Part of: Dynamic, Affordable, Apollo-free (Residency)
commissioned by The Arts Catalyst
Funded by Science & Technology Facilities Council, UK
Republic of the Moon, London, 2014
Bargehouse, Oxo Tower Wharf, South Bank, London, UK